Vishal Transformers & Switchgears Pvt. Ltd. (VTSPL), Meerut, India signed a joint venture (JV) agreement with Jiangsu Jingke Instrument Transformer Co. Ltd. (JSJK),  at New Delhi.  The JV agreement was signed by Mr.Sharad Khattar, Director of VTSPL and Mr.Wang Jinliang, Chairman, JSJK.  The breakthrough comes after nearly a year and half of untiring efforts.  ACE, which operates in close cooperation with its many partners world over, was assisted in this assignment by Global Business Links, Shanghai, China.
<![if !vml]>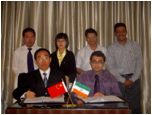 <![endif]>
Mr.Wang Jinliang and Mr.Sharad Khattar signing JV agreement at Delhi
The JV will result in the creation of a new company, Vishal-Jinke Instrument Transformer Co. Pvt. Ltd. (VJIT)., which in turn will setup a world class manufacturing facility in Bhopal, Madhya Pradesh, India. The new factory will produce various instrument transformers in the voltage class 11kV to 440kv, both under the conventional oil cooled as well as the most modern and latest, gas insulated (GIS) technology.                                                                
<![if !vml]>

<![endif]>
Visitors welcomed in the traditional, Indian way
JSJK will contribute the technology.  With this JV, VTSPL is expected to be the second company in India to manufacture the sophisticated GIS instrument transformers in India.
The manufacturing facilities will be located in a land of about five to 10 acres and building having approximately 125,000 square feet.  The whole project is estimated to cost Rs.30 crores or US$6.00 million, including working capital.  A major portion of funding comes from internal accruals and the balance will be raised through debt and private equity. 
<![if !vml]>

<![endif]>
Discussions in progress
The success comes amidst global economic turmoil based on the premise that domestic demand in India, which is expected to continue to grow at 7%, especially in the power sector. ACE will play a key role in raising the finances.
<![if !vml]>

<![endif]>
Factory visit
The whole project will be implemented in two phases.  Land has been identified already and construction will start by 1st January 2010.  The first phase is scheduled to go into commercial production by 1st April 2011.
Assist writing your business plan and presentations for investors, CMA data/ project report for banks/ Financial Institutions (FIs).
Small and start-up companies do not have in-house financial expertise to periodically check their financial health…